Why Use Crawl Space Moisture Control?
You probably think about your crawl space very little, and see it even less. But your crawl space is the foundation of not only your home, but your home's structural health. A damp crawl space can lead to the growth of dangerous mold and fungus and create an ideal environment for termite colonies to thrive.
Our crawl space moisture control specialists can install a moisture barrier to keep dampness from invading your crawl space. Eliminating moisture under your house leads to better indoor air quality within your Savannah home (fewer bothersome allergens and asthma triggers), eradication of funky odors and reduced warping of expensive hardwood floors.
Sagging Floors are a Symptom
If your floors are already saggy or bouncy from years of unmanaged moisture control, we can also install heavy-duty adjustable floor supports to strengthen your floors, extend their life and get rid of annoying squeaks.
Do Not Use Crawl Space Encapsulation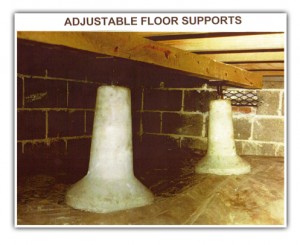 Preferred Pest Control does not endorse crawl space encapsulation. Encapsulation involves installing various materials to prevent moisture from entering a crawl space from the soil below. Our humid Savannah environment makes encapsulation seem like a good idea to many area homeowners, but we do not recommend it. Here's why:
We do not endorse encapsulation because it makes this area inaccessible to inspection. This may void your termite warranty and increase your risk of termite infestation that goes undetected.
Also, encapsulation of this area is considered a structural alteration by the state of Georgia and may void your warranty. These areas would be marked as inaccessible on a wood infestation report. However, if you build a new home with the crawl space encapsulated, the state will deem your structure in compliance.
Keep in mind the goal of moisture control for this area is to create and maintain proper conditions to sustain the integrity of the structure as a whole. In our opinion, the standards currently in place have served consumers well. If you alter your structure and go outside the mainstream, it many hinder your ability to market the property in the future.
Spray foam insulation in the crawl space or in the attic can also make areas no longer accessible for inspection if it covers the wooden members.