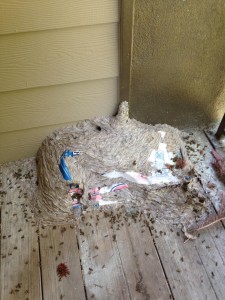 Here at Preferred Pest Control, we like to keep updated on the newest trends in our market. To do this, I take time every day to sit and read internet articles and several subscription magazines that are mailed to my office, many of which are very relevant to a Savannah pest control industry. One such magazine, Pest Management Professional, is by far my favorite source for pest control information. I read through their internet site this morning and found a link I wanted to share with you that talks about how pests can use trees and other structures to slip uninvited into your residence.
The link to the article: http://www.mypmp.net/2015/06/18/conducive-conditions-the-treetop-superhighway/
In the specific example the authors use in the article, a tree has been allowed to grow too close to a residential building. Jeff and Kate McGovern note that a rodent could use the tree to get on the roof, easily avoiding the bait station on the ground below. While this may seem an isolated issue, it is one that, as a Savannah pest control company, we deal with on a regular basis with wildlife and pest control services alike.
Often, people do not realize that insects are opportunists. The same customer who decides to encapsulate his crawl space will forget to trim back bushes that touch the sides of his house, despite the fact that the latter is just as conducive to an insect infestation as the former. Ants, wasps, rodents, and other pests will very readily use a low-hanging tree or other accessible structure to enter your home. It was based on this understanding that I forged my entire pest control ideology for the Savannah pest control region.
Integrated Pest Management is all about reducing the application of pesticides and other reactionary treatments whenever feasible. This is very much in line with my personal motto: an ounce of prevention is worth a pound of cure. If you call me and ask me to inspect your home for pests, not only will I fix your immediate pest problem, I will prevent it from re-occurring by pointing pest hazards like low-lying trees and bushes. Call me at (912)-236-5135 and make me your Savannah pest control company so I can put this policy in action for you today!