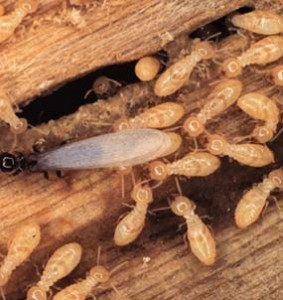 Earlier this year, researchers in South Florida discovered a hybrid species of termite bred from the Formosan termite and the Asian termite. While the Asian termite is not native to the Savannah area, the Formosan termite is sometimes a target of Savannah pest control, and both species are universally accepted as some of the most destructive termites in the world. Their offspring, however, have an even greater destructive potential.
Read the full article here: http://www.npr.org/2015/03/25/395287156/super-termite-could-be-even-more-destructive-than-parent-species
In the article, you will find the emergent characteristics of this newly discovered hybrid. It forms a colony twice as fast as its parent species. It grows twice as large. By any reputable standard, we are potentially dealing with a super-termite; indeed, one that could soon be the primary quarry of Savannah pest control technicians.
In past blog posts, we have dealt with the dangers of termite infestations. Already in the United States, over a billion dollars is spent annually to repair structural damages caused by termites, and that number is projected to increase in coming years. With the advent of this hybrid species, which can potentially migrate as far north as North Carolina, the increase may be exponential. Do not wait to get on board with a termite inspection and warranty – your home could be the next staging ground for a termite infestation.
At Preferred Pest Control, we have delivered quality pest service since 1988. If you are interested in a termite inspection or treatment, give us a call at (912)-236-5135 and make us your Savannah pest control experts today!