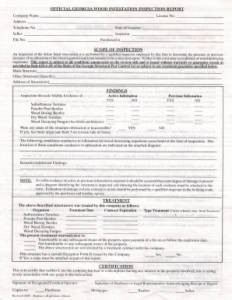 A common document requested in the process of buying a home is a wood infestation report. All this report contains is a list of areas in the house that harbor an active/previous infestation or damages attributed to wood-burrowing insects like termites and beetles. Whenever you call us in, we will take a look around your house and draw a report up to map your active or potential problem areas.
Normally, the person purchasing the home is the one who will call us out to draft a wood infestation report. We will then send one of our trained and certified technicians to come out and inspect the home.
The inspection process is one that focuses on the activity of 5 wood destroying organisms. They are as follows:
Subterranean Termites
Powder Post Beetles
Wood Boring Beetles
Dry Wood Termites
Wood Decaying Fungus (not mold or mildew)
If we find any evidence of an active or previous infestation by one of these 5 organisms, we will make note of it on your wood infestation report.
Upon looking for signs of wood-destroying organisms, we search also for areas that may be conducive to infestation. Broken structures, leaky pipes, and many warm and moist areas might all be noted in the report, as codified in state legislation. After making note of all infestations, problems areas, and past services, we will sign off on the wood infestation report and give you a copy for your housing transaction.
If you are interested in having us create a report for you, or if you would like to hear about our wide range of pest management services, please give us a call at (912)-236-5135 and make us your pest services company today!